Finishing and Cutting Glass and Plastics for a Range of Effects
Finishing and cutting glass, Safeglass, plastic sheet, toughened glass, laminated glass and specialist glass can be achieved in a variety of ways.
Please Contact Us with details of your project.
Screen Printing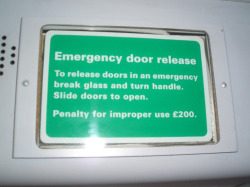 We can screen print directly on to glass, Safeglass or plastic. When printing on glass, ceramic paints are normally used. As a low-volume, cost efficient way of printing, we sometimes use vinyl adhesive lettering as an alternative.
Drilling
Most of our glass, Safeglass and Plastic can include holes. Please be aware that holes drilled too close to the edge may be impractical as it can cause breakages. When using Safeglass, the holes should be used for clearance only and not for holding the material in place.
Bending
We can bend most glass, Safeglass and plastic into the shape you need. This can be a cost efficient way to produce complex shapes without having to invest in tooling.
Sandblasting
Sandblasting can be used to produce high quality decorative glass.
Beveling
Our glass and Safeglass can be provided with a beveled edge for a good quality finish.
Polishing
For a great finish on glass edges, we can finish with polishing. We can also supply glass, polished columns for the 'legs' of furniture.
Waterjet Cutting
We can waterjet cut complex shapes into glass.
Kiln Formed Glass
Textures, patterns and colours can be achieved using this method. The glass is toughened it meets safety standards. These can be used as shower doors and shelves.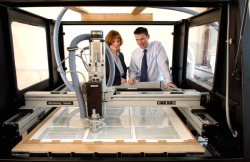 CNC Machining
Most of the sheets we supply can be cut using a CNC machine to achieve a variety of shapes.