Safe Glass Tubing for Switch Protection and Tell-Tale
Safe glass tubing is used to protect switches from accidental activation or as tell-tales that there may have been a fault.
Switch Protection – protect switches from accidental activation using Safeglass® tubing.
Tell-tale – If the switch is for over-ride purposes due to a failure of the system, the broken Safeglass tube indicates the failure to maintenance staff. Tell-tales can also indicate that someone has tampered with the device.
Safeglass® tubing was developed specifically for customers who needed a safe, reliable solution.
Background to project:
A TIS seal is a small, tube shaped part used throughout the rail industry. It is routinely broken by train drivers and maintenance engineers. The seal was originally made from glass and staff had reported injury when breaking it. A broken seal can also indicate a power failure to maintenance staff since the seal would only be broken in the case of loss of power.
The Brief:
To redesign the part so that it was easier and safer to break than the original glass part. The part consists of 2 sections – a tube and a collar that is glued to one end of the tube.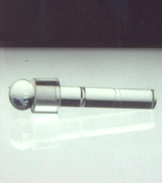 The Solution:
Several train companies were involved in the project and we discussed the options with them to find out how the original design could be improved and any other requirements.
A consensus was reached as to the best design incorporating as many of the elements as possible. We worked with ScotRail engineers to carry out the trials. Once the design was agreed, we carried out the processes necessary to change a material in order to conform to Railway Group Standards.
The Result:
The basic shape of the seal is similar to the original. To assist breaking, there is a groove cut into the tube section which weakens it only when force is applied to break it. Both sections are supplied in an individual bag to keep them together and prevent damage during storage. Many train companies are using the new seal and have seen improvements in safety.
Protect your emergency equipment with Safe Glass tubing or break glass solutions. Please contact us for a sample, more information or to discuss your project.