Hands Free Door Openers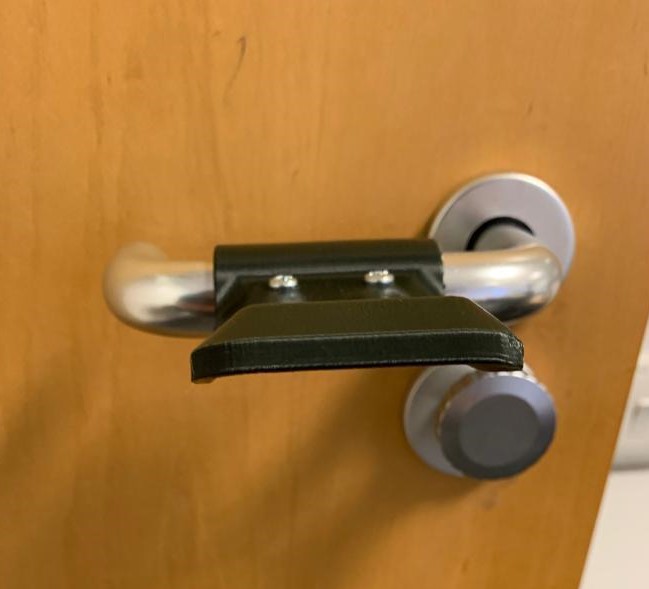 Using hands free door openers is one way to covid secure your workplace by encouraging staff to open doors with their arms instead of their hands.  Infection can be spread when germs linger on door handles, waiting for the next person to come along and pick them up.  Hand washing is a great way to dispose of these germs, but what if you touch your face or mouth before you get a chance?  We all get an itchy nose from time to time! Our hands free door openers have been designed to fit over existing door handles and will not cause damage to the handle or door.  You may be able to replace handles with ones designed to be used hands-free from the outset.
We have a range of 3D printed hands free door openers to help you covid secure your office or workshop.  Some fit over the common, cylindrical handles found in morst offices. We have openers for bars  - not the ones you can drink in, the ones you might find  on a fire exit.  Some are for handles that twist and others are for fixed handles that do not.  We even have openers for door knobs. 
Here is a quick video showing how easy hands free door openers are to use - social distancing ...... I had to video myself as I was all on my own that day!  We REALLY need to re-paint that door.
Face Visors
Face visors can act as an additional barrier and can prevent particles from getting on to skin.  Do you frequently forget the rule about touching your face?  These visors will remind you not to do that as well! Visors are not necessary for most situations but could help where there is close contact with staff or patients.  Restaurants, hair-dressers or opticians find extra protection for their staff and others.  Patrons might also take comfort if staff are wearing visors. If you are using visors it is important to handle them with care.  The face shield in particular could potentially become covered with particles of infection, so wash your hands after touching it.  We would recommend that if you are re-using the visor, you wash it in warm soap and water after every use.  Better still, descard the face shield and replace it, wash the frame before re-use.  
We manufacture face visors.  We have designed them so that the face shield can be replaced with standard stationery items.  We use A4 sized report binder covers.  They need to be hole-punched before use but fit securely in place in the visor frame.  The corners can be cut so they are rounded.

Sneeze Screens
Sneeze screens can protect staff and customers by putting a physical barrier between regions of your premises. We have all seen sneeze screens being used when we go shopping for essentials.  As lockdown eases, more shops, restaurants and business premises will re-open. 
Owners of these businesses will need to think about the best way of covid securing their spaces. Sneeze screens can also be used in areas where it is impractical for staff to be 2m apart or where extra protection is needed between staff and customers or each other. 
We manufacture sneeze screens in our workshop in East Kilbride.  We have Free standing screens as well as screens which hang from the ceiling.  We can carry out bespoke designs where necessary. Please get in touch if you would like to discuss sneeze screens with us.
Ear Savers for Comfort
Feedback suggests that wearing a mask with ear loops can cause irritation and discomfort over a long period of time.  We manufacture ear-savers which turn the loop into a headband.

To Face Mask or Not To Face Mask

There is much controversy over the effectiveness of face masks.  The consensus seems to be that the wearing a mask can reduce germs from the wearer spreading to others. 
Here is a recent study which compares the effectiveness of different types of masks.  It is focussed on what "escapes" from the wearer.  I would like to see a study the other way around.
The conclusion is that all masks, including home-made ones, are effective at preventing more than 90% of particles in a forward arena.  However, droplets leak out to the sides, upwards and backwards. Perhaps a combination of masks would be most effective.
Show the way with Signage
Show staff the way with clear signs.  "Keep your distance", "One-Way this way", "wash your hands". 
One way to reduce infection is to continually remind staff and customers about the rules you have implemented.
Do your signs need to be read in the dark? We supply photoluminescent adhesive signs.  These will stay readable for up to 6 hours of darkness and have the highest fire rating.  They are compliant with Rail Standards EN45545 (Rail fire standards) as well photouminescent guidelines for railways. 
Contact us if you would like more information or a quote.
We hope that gives you an idea of what covid secure products are available.  We make some of these products, such as hands free door openers.  We also have 3D printing capabilities and CNC machining if you would like us to make something else.